Mahalo a nui loa to everyone that attended and supported TEDxHiloChange 2013!
Please submit feedback about the event to TED directly via the event feedback form.
Special mahalo to the organizers who stayed late learning and sorting out planning for the next TEDxHilo. Details about the upcoming meeting will be sent via email to everyone who expressed interest in working together.
If you'd like to watch the rebroadcast or just review comments, plesae visit:
https://apps.facebook.com/tedxtwentythirteen/
We posted event photos on Flickr and at bottom in the gallery.
Engage in a Positive Disruption at UH at Hilo.
When We Watch the Webcast on Wednesday, April 3rd from 6:30pm-8:00pm in UCB 100*
TEDxChange 2013 will take place on Wednesday, April 3, 2013 at 9:00am PDT in Seattle, Washington. Themed Positive Disruption, TEDxChange 2013 speakers will challenge preconceived ideas, spark discussion, engage leaders and shed light on new perspectives.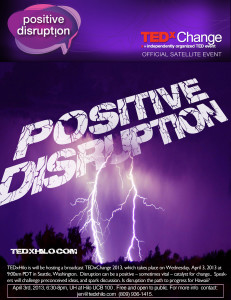 TEDxChange 2013 is a TEDx event co-organized by the Bill & Melinda Gates Foundation and TED. Convened by Melinda French Gates. TEDxChange will focus on issues surrounding global health and development. TEDxChange type events are TEDx events hosted around the live webcast of TEDxChange, and also feature local speakers. Our event is called TEDxHiloChange, and is one of many TEDx events happening around the globe on April 3rd that will expand on the ideas brought up at TEDxChange 2012.
Disruption is usually unwelcome. It represents conflict, chaos, and potential danger. We discourage disruptive behavior in our homes and our societies, often favoring passivity and compliance.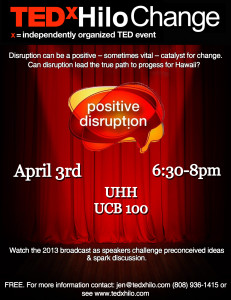 But disruption can be a positive – sometimes vital – catalyst for change. It can challenge old assumptions, ignite conversations, activate authorities and expose new possibilities. Disruption can shed a unique light on difficult issues, giving a fresh urgency and perspective to the challenges of our global community.
To solve the most intractable challenges in health and development, we need positive disruption. Is positive disruption the path to progress for Hawaii?
An optional discussion will follow.
TEDxHilo 2013 organizer meeting to follow discussion.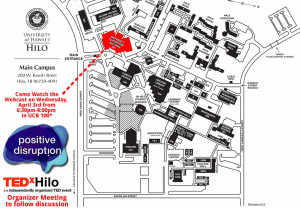 *Directions to UCB 100: 1)Turn at UHH main entrance at stop light off Kawili st. 2)As soon as you turn in, you will see a security booth. Looking beyond the security booth to the left there is a staircase.3)The door to UCB 100 is at the top of that staircase.
TEDxChange 2013 Speakers*
Julie Dixon

David Fasanya

Halimatou Hima

Cathleen Kaveny

Salim Shekh & Sikha Patra

Roger Thurow

Melinda Gates
*Actual speaker lineup may change based on availability of video feed from Seattle and the creative input from our attendees. TEDxHiloChange 2013 is an independently organized TEDx event.
About TEDx
In the spirit of ideas worth spreading, TED has created a program called TEDx. TEDx is a program of local, self-organized events that bring people together to share a TED-like experience. Our event is called TEDxHilo, where x = independently organized TED event.
The TED Conference provides general guidance for the TEDx program but individual TEDx events, including ours, are self-organized.
Your participation and support of TEDxHilo is greatly appreciated.
TEDxHiloChange 2013 Event Photos